6Gbps LC Duplex SFP+ Optical Transceiver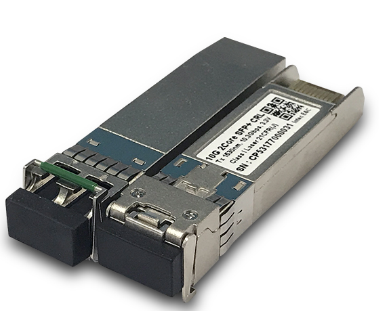 Functional Description
The transceiver is an excellent product, which is a series of high performance optical modules suitable for CPRI (Common Public Radio Interface).
It is available in various wavelengths to meet the needs of each customer. Because of its hot-pluggable capability the transceiver can be installed in or removed from any MSA compliant pluggable small form factor port, regardless of whether the host equipment is operating or not.
IDS-C6xxALB-yzzR SFP+ transceivers are designed to meet serial optical data communications specification.
The transceivers are manufactured in hot pluggable capability package with receptacle LC connector interface and made of metallized housing to obtain excellent EMI shielding. 
The transmitter consists of DFB laser in an optical subassembly (OSA).
Features

Applications

Data sheet

Ordering information
Standard Small Form Pluggable package with receptacle LC/UPC connector
Compliant with SFP MSA
SFF-8472 compliant digital diagnostic monitoring function implemented
Internally calibrated mode
Uncooled DFB lasers Transmitter
High sensitive PIN photodiode Receiver
Single +3.3V power supply
Operating case temperature; 0℃ to +70℃(CzzR), -40℃ to +85℃(IzzR)
Differential CML inputs and outputs
Internally AC-Coupled electrical interface
RoHS compliant
 Digital Wireless Repeaters
 Digital Wireless BTS Interconnects: OBSAI and CPRI Standards
 Metro Access Rings
 High-speed data links.
data sheet

| Part. No | Fiber type | Data Rate | Wavelength | Optical components | Distance | Power Budget | Connector | Case Temp | Datasheet |
| --- | --- | --- | --- | --- | --- | --- | --- | --- | --- |
| IDS-C6xxALB-C10R | SMF | 6.144Gbps | CWDM | DFB / PIN | | 10dB | LC | C | data sheet download |
| IDS-C6xxALB-I10R | SMF | 6.144Gbps | CWDM | DFB / PIN | | 10dB | LC | I | data sheet download |
| IDS-C6xxALB-C14R | SMF | 6.144Gbps | CWDM | DFB / PIN | | 14dB | LC | C | data sheet download |
| IDS-C6xxALB-I14R | SMF | 6.144Gbps | CWDM | DFB / PIN | | 14dB | LC | I | data sheet download |
| IDS-C6xxALB-C22R | SMF | 6.144Gbps | CWDM | DFB / APD | | 22dB | LC | C | data sheet download |
| IDS-C6xxALB-I22R | SMF | 6.144Gbps | CWDM | DFB / APD | | 22dB | LC | I | data sheet download |