Up to 2.5Gbps Sub-channels CWDM SFP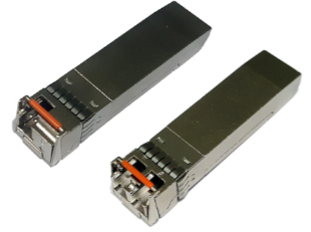 Functional Description
IBP-S3SxxyB-I18R Sub Channel SFP transceivers are designed to meet serial optical data communications specification. The transceivers are manufactured in hot pluggable capability package with receptacle LC connector interface and made of metallized housing to obtain excellent EMI shielding.

 

​The transmitter consists of DFB laser in an optical subassembly (OSA).




 
The OSA is driven by a custom IC which converts differential CML logic signals into a laser diode drive current. The receiver includes a planar InGaAs PIN-PD mounted with a transimpedance preamplifier IC in an OSA. The OSA is mated to a custom limiting-amplifier which provides post-amplification and signal detect function (Logic 0 indicates normal operation).
The transceivers are designed to used in a single power supply (+3.3V) and an operating temperature range of -40℃ to +85℃

Features

Applications

Data sheet

Ordering information
Up to 2.5Gbps data rate
​Standard Small Form Pluggable package with receptacle LC/UPC connector
​Compliant with SFP MSA
​SFF-8472 compliant digital diagnostic monitoring function implemented
​Internally calibrated mode
​Cooled DFB laser transmitters
​High sensitive PIN photodiode
​Single +3.3V power supply
​Operating case temperature; -40℃ to +85℃
​Differential CML inputs and outputs
​Internally AC-Coupled electrical interface
​RoHS compliant
Gigabit Ethernet
​Digital Wireless BTS Interconnects: OBSAI and CPRI Standards
​Metro Access Rings
​High-speed data links.
data sheet

| Part. No | Fiber type | Data Rate | Wavelength | Optical components | Distance | Power Budget | Connector | Case Temp | Datasheet |
| --- | --- | --- | --- | --- | --- | --- | --- | --- | --- |
| IBP-S3SxxyB-I18R | Single Mode | 2.5Gbps | CWDM | DFB / PIN | | 18dB | LC BIDI | C / I | data sheet download |